About 8-koi
At 8-koi, we design, build, staff, and supply.
We deliver service excellence across four divisions: Design Engineering, Construction, Technical & Administrative, and Healthcare. 8-koi is a certified 8(a) and Economically Disadvantaged Woman Owned Small Business (EDWOSB) headquartered in Merritt Island, FL, with offices in Jacksonville and Melbourne, and in San Antonio, TX.
STEM Business Innovator of the Year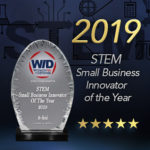 Space Coast Women In Defense named 8-koi as the 2019 STEM Business Innovator of the Year for its construction of NASA's Robotic Mining Competition (RMC) Indoor Arena at The Astronauts Memorial Foundation and Education Center at NASA's Kennedy Space Center. The annual award recognizes individuals and organizations for their dedication and tireless support promoting Science, Technology, Engineering, and Math (STEM) education in the Space Coast community. Check out the 360° view of the arena.
Get news from 8-koi in your inbox

JOIN OUR KURRENTS NEWSLETTER
Testimonials
"8-koi's performance has been EXCELLENT, they tirelessly ensure they are in communication with the COR and Contracting Specialist to ensure performance schedule of their employees and to ensure they are maintaining the objectives of the performance requirements."

Marvin W. — Contract Specialist
"Very responsive to the needs of the Government. Remained available to address issues and work towards a solution for each issue. Prompt, decisive response to contract issues."

Shawn C. — Management Analyst
"Bay Street Pharmacy is thankful to have found 8-koi during this COVID19 pandemic. They have been able to source so many items that we were unable to find through our traditional vendors. Additionally, the turnaround time and pricing has been very good too. Most importantly, because of them we were able to get many supplies that our patients have desperately needed such as masks, gloves, and hand sanitizer. Thank you to the staff at 8-koi!"

"Thanks so much for your assistance on this project. We couldn't pull this off without you."

Eric W. — Operations Manager
"Mr. Ogershok was an excellent BLS instructor who gave clear instructions how to access Red Cross Site and how to schedule hands on testing out to get the BLS Certificate. Took class on 30 Sep – there also was an assistant instructor who helped out in the class that was of help as well."