Construction Capabilities
8-koi is a proven Construction and Architectural and Engineering (A&E) Services provider under NAICS 236210 Industrial Building Construction at the $39.5M Size Standard. Our Construction Division brings an accomplished team of experts to each project with a shared mission to deliver on schedule, on budget and at an exceptional level of service.
We provide a trusted source for skilled trades services to build next-generation facilities and workspaces across the US that meet Milspec demands and tolerances for high-tech operations in aerospace, maritime, manufacturing, and training.
Our comprehensive facility improvements include integrated communications and data network infrastructure planning and hardware installation, as well as retrofits to improve energy efficiency. With safety and quality being top-of-mind, our team delivers cost-effective building methodologies for new construction, as well as seamless renovation of obsolesced properties with the least interruption.
CONTACT US to learn more about our capabilities to include:
Florida General Contractor
New Construction
Existing Building Renovation
Demolition
Management
Vertical / Horizontal
Government / Private
Commercial / Industrial
Aviation / Aerospace
Health Care / Institutional
Office / Manufacturing
Maritime / Drydocks / Wharf / Dredging
Underground / Infrastructure
Safety Planning / Communications / Logistics
A&E Support
HVAC & Electrical
Facility Stabilization
Emergency Response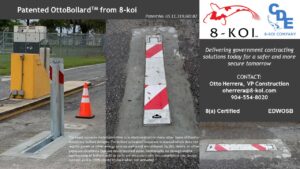 The simple OttoBollardTM design is made to be permanently installed, stowed in place, easily maintained, and operated manually to replace more complicated and expensive hydraulic traffic control systems. It is designed to give property owners the choice of how and when they change protection levels and or traffic patterns. As an example of maintainability, 8-koi's OttoBollardTM was easily repaired and made ready for service with minimal downtime the same day following impact.
Applications include property egress paths, facility egress paths, civic meeting places, and roads and other similar locations where bollard systems are not to be permanently installed and there is a need to modify or change potential traffic patterns. The OttoBollardTM eliminates off site storage of temporary bollards or other similar systems when not in use. The OttoBollardTM reduces recurring costs of transport, manpower, rental, and deployment.
CONTACT US to request more information about installing the OttoBollardTM at your project site.