Design Engineering Capabilities
Click here to read about the 8-koi acquisition of Cape Design Engineering (CDE) in March 2019.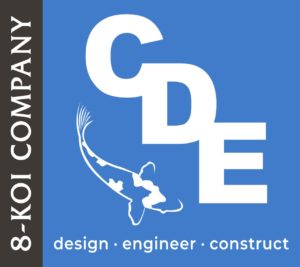 From the simple to the complex, we have many successful years of experience in the design-build arena with a wide array of projects types from gymnasiums and sports fields to airfields, launchpads, universities, and high-tech laboratories.
CDE takes full ownership of design projects – Once we are commissioned, we become your one centralized point of contact for everything regarding your project and the single responsible party for everything related to the project.
We maintain a high level of collaboration between the stakeholder, the design team, and the on-site construction team that allows a project to be designed and built with minimal complication. Our streamlined team works to remove construction obstacles, reduce costly construction change orders, and shorten the overall length of the project timeline.
CONTACT US to learn more about our capabilities to include:
Mechanical, Electrical, Plumbing (MEP) Engineering
Structural Engineering
Renovation / Retrofit / Modernization Design
BIM Modeling / Energy Simulations
LEED / Energy Conservation
Specialized Engineering
New Construction Design
PV / Solar Designs
HVAC / Electrical
Peer Review
Special Inspections
Investigations / Forensics
Cost Estimation / LCCA
Post-Catastrophe Response