Technical Services
8-koi is a valued member of high-performing teams, offering a low-risk, high-confidence solution to surpass dynamic contract requirements. We take pride in our customer-centric and service-oriented management support approach, integrating proven, reliable processes and services, innovation, and agility across functional task areas. Leveraging our experience, we minimize program risks and surpass contract objectives through integrated support, exceptional personnel, and streamlined processes. Our readiness to respond swiftly ensures your project's success, supported by top-notch personnel and a wide range of comprehensive resources.
Additionally, 8-koi provides a diverse range of ISO 9001:2015 Certified capabilities and technical support, including medical simulation and training, administration, professional and ancillary staffing, and records management. Our proven processes and innovative solutions have made significant contributions to training and direct care activities at prominent Medical Treatment Facilities (MTFs) like the Brooke Army Medical Center and Center for the Intrepid in Texas, and Walter Reed National Medical Center for the US Army, Navy, and Air Force.
CONTACT US to learn more about our capabilities to include:
Acquisition / Procurement
Program Management
Systems Engineering and Technical Assistance (SETA)
Risk Management
Staffing / Training / Manpower Support
Life Cycle Management / Sustainment
Quality Assurance Support
Curriculum Development
Software Development
Desktop Support / Administration
Computer Engineering
Computer Systems Design
Medical Administration
Medical Records / Coding / Credentialing
Healthcare Information Technology (IT)
Case Management
Training / Simulation
Medical Supplies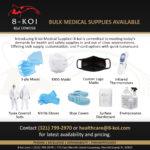 The 8-koi medical supply line of business is proficient in filling purchase orders to get scarce and critical supplies like PPE to organizations in need as practiced during recent public health crisis related to the COVID-19 pandemic. We consistently meet the needs of our customers who require sterile environments for direct care and cleanroom facilities for modern operations.
CONTACT US to check our available inventory of in-demand medical supplies and Personal Protective Equipment (PPE):
3-ply Masks
N95 Masks
KN95 Masks
Custom Logo Masks
Infrared Thermometers
Tyvex Coverall Suits
Nitrile Gloves
Shoe Covers
Surface Disinfectant
Envirocleanse
Electrostatic Spraying