8-koi™ and its subsidiaries offer dynamic opportunities for contract and permanent positions in high-growth industries around the US.

We aim to provide our personnel with a unique company culture, competitive compensation packages, professional development, and a respectful work environment.
Featured Opportunities
Employee Benefits
8-koi offers competitive comprehensive benefit plans for full-time employees and their families* to include Medical, Dental, Vision, Matching 401(k), Life and AD&D, Short and Long Term Disability, Accident and Cancer, and Legal Shield options in which you may elect to enroll.
*There may be Employee Premiums required for some coverage.
Internships
8-koi actively invests in high schools and colleges in our community. Each year we offer internships to ambitious students interested in gaining job experience to include engineering, administration, accounting, security, and more. Some of our best employees are developed this way. Our interns have been associated with prestigious institutions such as Boston College, University of Florida, University of North Florida, and the University of Tampa. For more information about the next round of competitive opportunities, please contact us.
Our Values
Passion – Driven by essential needs
Excellence – Commitment to achieving high standards
Dependability – Lasting outcomes through perseverance
Thoughtfulness – Giving consideration to the alternative
Meet Carlos Badillo - 8-koi's Corporate Recruiter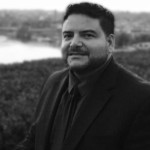 Carlos Badillo, joined the 8-koi team in September 2021 as our Corporate Recruiter and supports HR functions for both 8-koi and CDE. He is bilingual (Spanish), and a military veteran with a wealth of experience working with Federal Government interagency, as well as corporate recruitment supporting federal contracting. Carlos' expertise helps us find the best professionals for the job as we grow across all our divisions: Design Engineering, Construction, Technical and Administrative, and Healthcare.