The US Patent Office issued Patent No. US 11,319,681 B2 to 8-koi on May 3, 2022 for a bollard system invented by 8-koi VP of Construction Otto Herrera. The patent application for the physical security device used to restrict vehicular movement was filed August 6, 2020 in response to a DoD customer's request for a solution to their force protection.
"Their fancy hydraulic traffic retractable bollard system was inoperable because of built up debris and muck within the mechanism. I couldn't fix the existing problem, nor could the manufacturer, but I thought a simpler retractable system could serve the same purpose," says Otto. "I proposed a conceptional system with a cardboard model to test the basic functionality for a customer demonstration and they greenlighted it."
Otto went to work to complete the design and fabricate a full-sized prototype to install and test. The total cost for the first unit is a tremendous cost savings when compared to the dysfunctional barrier system that was installed, not inclusive of the time lost and the associated labor required to maintain the original system.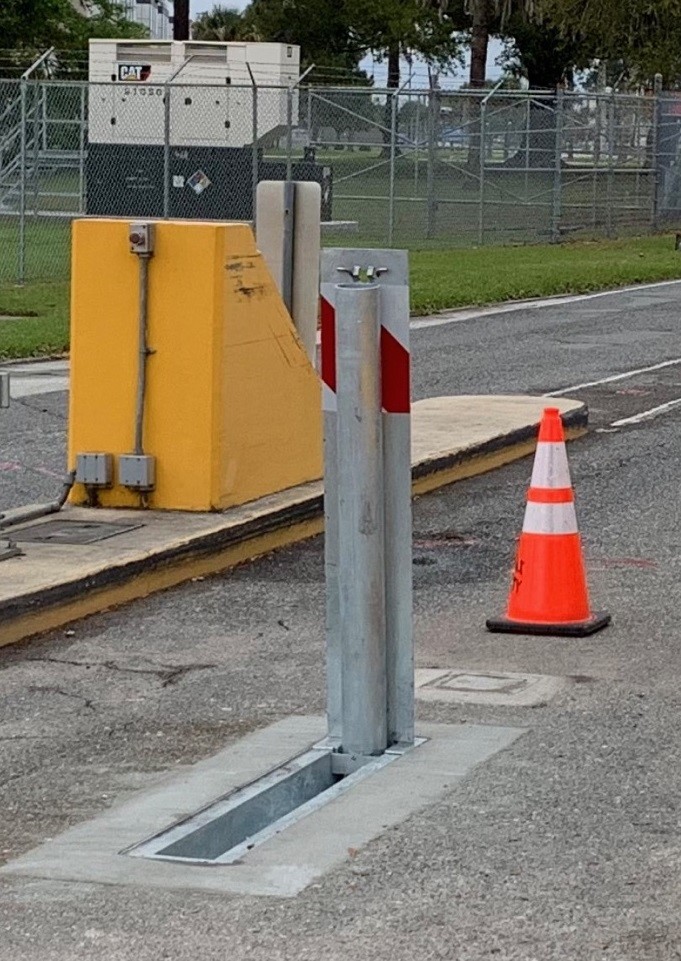 The simple OttoBollardTM design is made to be permanently installed, stowed in place, easily maintained, and operated manually to replace more complicated and expensive hydraulic traffic control systems. It is designed to give property owners the choice of how and when they change protection levels and or traffic patterns. As an example of maintainability, 8-koi's OttoBollardTM was easily repaired and made ready for service with minimal downtime the same day following impact.
Applications include property egress paths, facility egress paths, civic meeting places, and roads and other similar locations where bollard systems are not to be permanently installed and there is a need to modify or change potential traffic patterns. The OttoBollardTM eliminates off site storage of temporary bollards or other similar systems when not in use. The OttoBollardTM reduces recurring costs of transport, manpower, rental, and deployment.
"Our patented bollard is a simple system that is quick to deploy, operates without electricity or hydraulics, requires no storage, and works in all weather conditions," says 8-koi President Inga Young. "We are looking forward to targeting sales to municipalities for secure event areas like sports arenas, stadiums, and parks to help with crowd control and hopefully avoid tragic public safety disasters such as the recent parade crashing events we see on the news."
A woman-owned company, 8-koi currently supports design engineering and construction contracts with public and private organizations to include Eastern Florida State College, Daytona State College, NASA's Kennedy Space Center, and Army Corps of Engineers among others. See more construction capabilities.