With supply shortages affecting organizations of all sizes during the global coronavirus pandemic, 8-koi is working to protect critical community operations with KN-95 mask donations to fire departments, schools, and non-profit organizations serving the most at-risk.
Over the past six months, 8-koi has delivered thousands of masks to students, teachers, first responders, and community servants in several communities around the company's home state and in rural New Mexico.
Last summer, when COVID-19 cases were inundating the Navajo Nation, our company sent a supply of masks to Cuba Fire Rescue to help protect the handful of dedicated volunteers answering emergency calls in several remote tribal communities on the borders of New Mexico's designated tribal lands.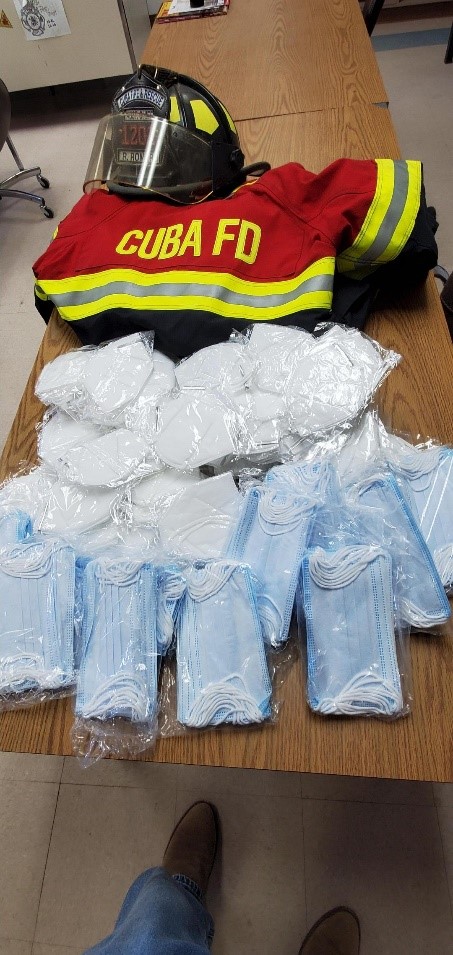 More masks were sent in January to the Sandoval County Senior Center in Cuba, NM, and to the Jemez Mountain Public Schools in Gallina, NM, where front line staff remained committed to supporting members of the indigenous population by delivering food and necessities to homebound elders and instructional materials and basic routine healthcare to isolated students in rural areas.
Closer to home and most recently in Florida, 8-koi's Vice President of Design Engineering, Victor Diaz, personally delivered KN-95 masks in February to the Dean of Academic Affairs and Health Science's Edward Willey at Palm Beach State College to ensure practical training could continue safely for the faculty and students of the school's acclaimed nursing program.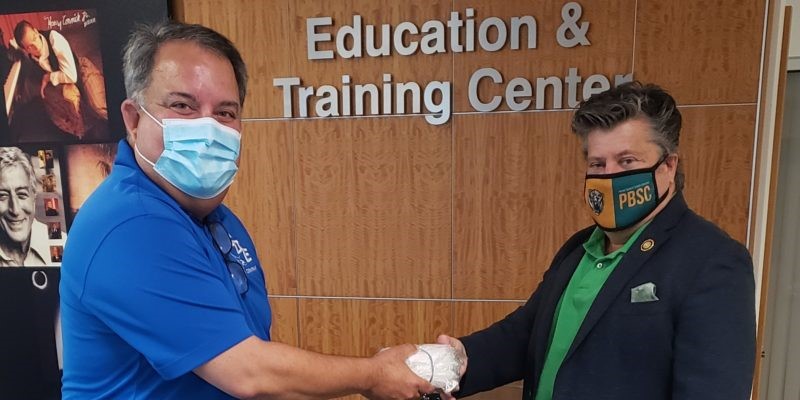 Also in February, 8-koi President, Inga Young, and Chief Operating Officer, Dean Rosenquist (USAF ret.), hand-delivered masks to JROTC and Athletics students at Cocoa Beach Jr./Sr. High School, and to the Volunteers of America and Down the Road Thrift non-profit organizations in Cocoa that both provide veterans outreach services to include housing, employment, and basic needs.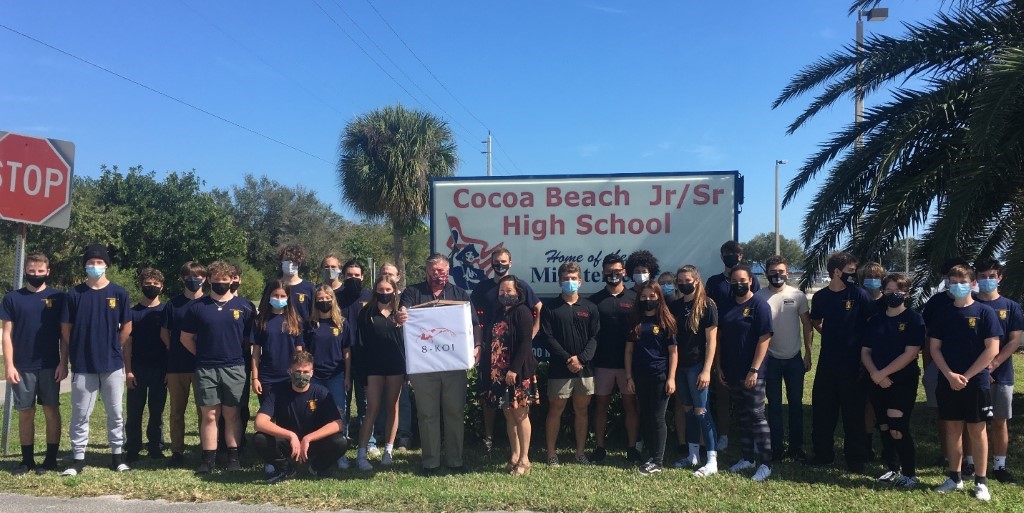 John Welch, Property Manager at Veterans of America and US Air Force retiree, said the KN-95 masks "protect much better than anything else and would allow staff and veterans to get tasks done safely."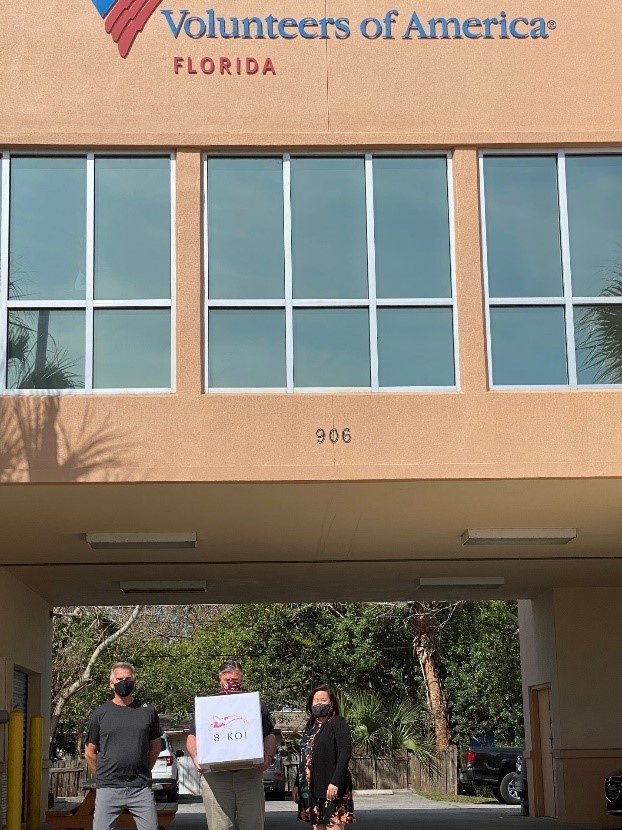 "It is really important to me that our company give back in a meaningful way with tangible outcomes," said Young. "We have been providing healthcare support services to our government clients on contract for a number of years and I believe that experience prepared us for this kind of critical response where it matters most."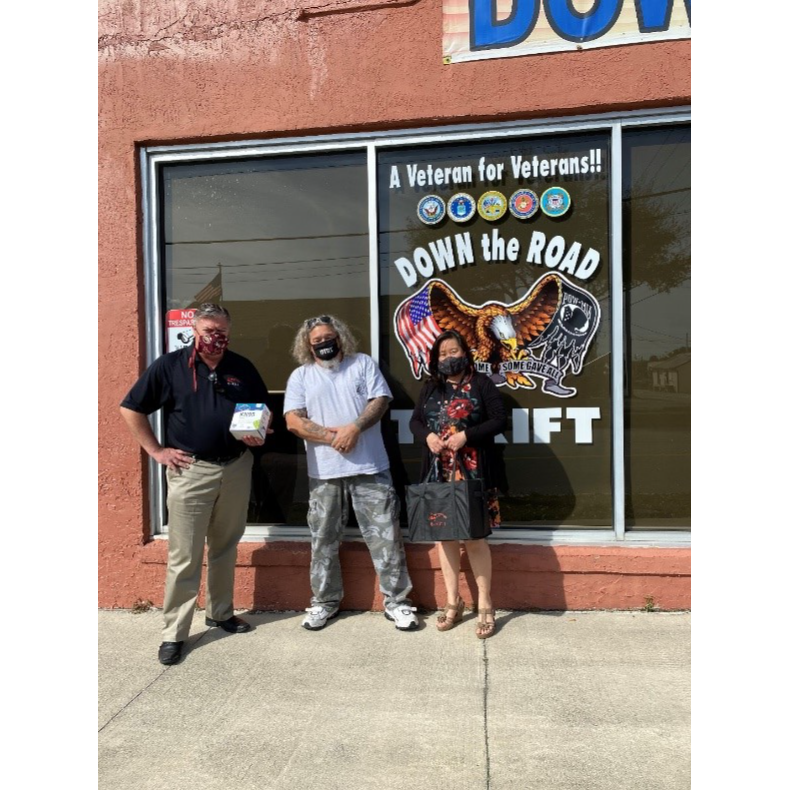 8-koi's personnel have conducted advanced emergency medical training at Fort Detrick, MD, on contract since 2014 and were activated in 2020 to take temperatures for patients at overcrowded healthcare facilities in New York City. 8-koi's contracted staff typically working directly with military and civilian patients at the Center for the Intrepid in San Antonio, TX, were temporarily transitioned to assist Brooke Army Medical Center (BAMC) with notifying patients of their negative COVID-19 test results during the peak of the pandemic.
The small company with just under 50 employees diversified into medical supplies and Personal Protective Equipment early in 2020 for their existing customers with no expectations for the skyrocketing demand realized from new customers reeling from the public health crisis. 8-koi's well-established Healthcare Division, previously focused on staffing and construction services at federal medical treatment facilities like clinics at Patrick Space Force Base and Naval Air Station Jacksonville, now supplies the Indian Health Service within the U.S. Department of Health and Human Services responsible for provisioning comprehensive health services to American Indians and Alaska Natives in Hawaii and Oklahoma.
"We had to learn a lot in the beginning, but we are so fortunate to have these supplies on hand and fill a need when so many lives are at stake. These donations exemplify our company's core values of being thoughtful and dependable and represent the 'human touch' our team strives to deliver in service excellence every day – even at a safe distance." says Young.  
Read the press coverage in Hometown News.