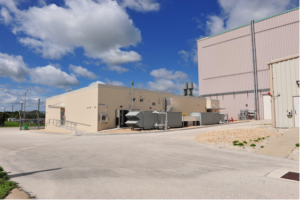 NASA Space Station Processing Facility
The 8-koi team performed the complete design and build of the biological science laboratory facility at the SSPF, which included site civil, architectural, structural, electrical, mechanical, plumbing, process piping, controls, fire detection and protection, as well as data systems. The entire building and systems were modeled using BIM.
LEED Silver® certification was awarded to the facility due to the team's utilization of a high efficiency roofing system, energy efficient equipment, variable frequency drive motors, LED lighting, occupancy sensors, and building control and automation system.
The facility was completed in 2014, on schedule and within budget. The facility is currently in use and continues to impact scientific research being performed aboard the International Space Station (ISS).